(trendingpoliticsnews) – Former President Donald Trump has responded to Hunter Biden's controversial plea deal, taking to Truth Social to slam the Department of Justice and the current president's ne'er-do-well son.
"Wow! The corrupt Biden DOJ just cleared up hundreds of years of criminal liability by giving Hunter Biden a mere "traffic ticket." Our system is BROKEN!" Trump said.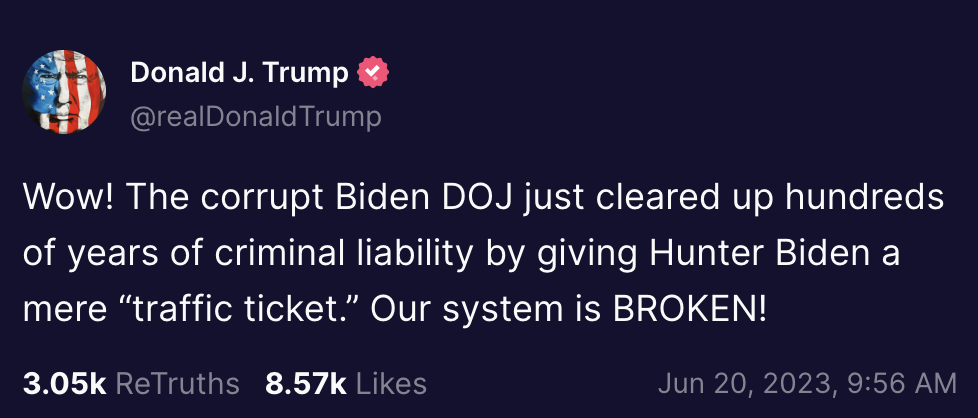 Trump then followed up minutes later, taking note of the outrage from conservatives and legal analysts over the plea deal, which many consider to be friendly to Hunter Biden, and not fitting for the crimes committed.
"People are going wild over the Hunter Biden Scam with the DOJ!" he continued.

On Tuesday David Weiss, U.S. Attorney for the District of Delaware, submitted a letter to the district clerk's office announcing that his team of prosecutors had reached an agreement with Hunter Biden and his attorneys that will allow him to avoid jail time altogether. As part of the deal, Biden will plead guilty to two misdemeanor counts of failing to pay federal income taxes and will accept a pretrial diversion program for his firearms violation.
The case against Hunter Biden has been criticized by outsiders as well as whistleblowers for its glacial pace. Investigators with the Internal Revenue Service began investigating suspicious tax reports by the first son in 2018, and recently a career civil servant came forward claiming that the Biden Justice Department had interfered in the case, ordering the elimination of an internal team dedicated to the case. The resulting fallout has led House Republicans to interview whistleblowers at both the IRS and FBI where claims of politicization by insiders have caused the independence of both federal agencies to buckle under the weight of political pressure.
The president's son and his associates have made substantial income since President Biden's time as vice president between 2009 and 2015. House investigations have uncovered bank documents showing millions of dollars in lucrative deals that rewarded Hunter Biden, associates, and members of his family for representing foreign companies seeking influence in Washington. Many of these business deals involved payments to the Bidens through limited liability companies which obscured the nature of the transactions and ultimately led to tax violations.
trendingpoliticsnews.com/system-is-broken-trump-responds-to-hunter-bidens-sweetheart-plea-deal/