(breitbart) – Memphis officials released video footage on Friday from the traffic stop that resulted in the death of 29-year-old Tyre Nichols earlier this month.
Nichols, a 29-year-old black man, died on January 10, three days after Memphis police officers stopped him for "reckless driving."
A "confrontation occurred" between Nichols and the police officers when he was stopped around 8:30 p.m. on January 7, according to an initial statement released by authorities.
However, "another confrontation occurred" while officers attempted to take Nichols into custody.
"While attempting to take the suspect into custody, another confrontation occurred; however, the suspect was ultimately apprehended," the Memphis Police Department stated. "Afterward the suspect complained of having shortness of breath, at which point an ambulance was called to the scene."
The Memphis Police Department released four videos, three of which were from a police officer's body camera and one was from a street pole camera and contains no audio. The videos included graphic content and a language disclaimer with viewer discretion advised.
The footage shows the officers pulling behind Nichols' car, exiting their vehicle, and ordering Nichols to get out of it while shouting expletives at him.
"I didn't do anything," Nichols can be heard saying as the officers drag him out of his car. Nichols calmly asked the officers to "stop."
However, the officers continued to attempt to detain Nichols, with one officer drawing a taser and aiming it at Nichols.
"Okay, alright," Nichols said as the officer pointed a taser at him.
"You guys are really doing a lot right now," Nichols, who was reportedly only blocks away from his mother's home, says. "I'm just trying to go home."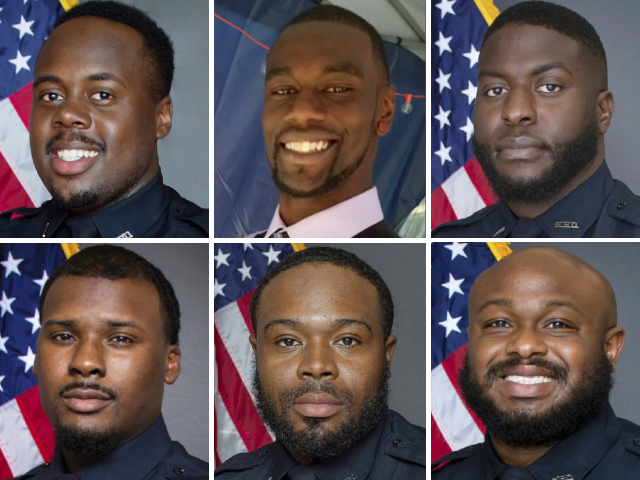 Nichols appears to resist the officers' command to lie on the ground, which prompts one officer to utilize pepper spray. At one point, Nichols appears to struggle with the officers before running away from them as one discharges his stun gun.
One of the videos shows the second "altercation" between Nichols and the officers that happened at a different intersection. The officers can be seen punching Nichols multiple times.
Then, one officer deployed pepper spray, which appeared to make contact with another officer, who stepped away from the altercation to regain sight.
When the pepper-sprayed officer recovers, he returns to Nichols and says, "Watch out, I'm a baton the f*** out you."
"Give us your hands," the officer shouts as Nichols appears to be bloodied from the punches.
Nichols could be heard shouting, "Mom," during portions of the video.
The Memphis Police Department fired all five officers last week, and a grand jury returned an indictment for multiple charges against each officer on Thursday for various charges, including second-degree murder.
Former officers Demetrius Haley, Tadarrius Bean, Emmitt Martin III, Desmond Mills, and Justin Smith, all of whom are black, joined the Memphis Police Department between 2017 and 2020, according to the New York Times.
Nichols' mother, RowVaughn Wells, cautioned Memphis residents against protesting violently in the lead-up to the video being released.
"When that tape comes out tomorrow, it's going to be horrific. I didn't see it, but from what I hear, it's going to be horrific. But I want each and every one of you to protest in peace. I don't want the burning of our city, tearing up the streets," Wells said. "Cause that's not what my son stood for. And if you guys are here for me and Tyre, then you will protest peacefully."
breitbart.com/politics/2023/01/27/memphis-officials-release-video-footage-tyre-nichols-death/