(breitbart) – Migrant asylum seekers staying at a Bronx hotel in New York City were promptly evicted on Thursday and taken to a soft-sided shelter in Queens Village, according to one of those moved. Despite recent protests by local residents concerned about the arrival of an expected 1,000 single adult migrants, the transfers from the Bronx hotel began Thursday afternoon. Migrants were bused in, taken to an intake room, and processed into the facility by New York City homeless shelter staff members.
The shelter, near the Creedmoor Psychiatric Center in Queens, has been the site of protests carried out by residents near the shelter who are unhappy with the expected arrival of up to 1,000 single adult migrants being transferred from New York City hotels. According to Mayor Eric Adams, single adult migrants are moving from the hotels to make way for migrant family units. Breitbart Texas received photographs of the migrant transfer process from a Venezuelan migrant formerly residing at the Bronx hotel.
Danny, an asylum seeker from Venezuela, told Breitbart Texas he received written notice of transfer from the hotel on Wednesday. Danny, who entered the United States near Brownsville, Texas, traveled to New York City and was housed in the Bronx hotel. He had found employment with a commercial cleaning company. The Venezuelan migrant says he will probably be forced to quit his employment after his move to the shelter in Queens.
The written notice of transfer in Spanish, signed by Erika Pula, a program director at the New York City contracted shelter system, informed Migrants they would be moved from the hotel to an undisclosed shelter in Queens on Saturday.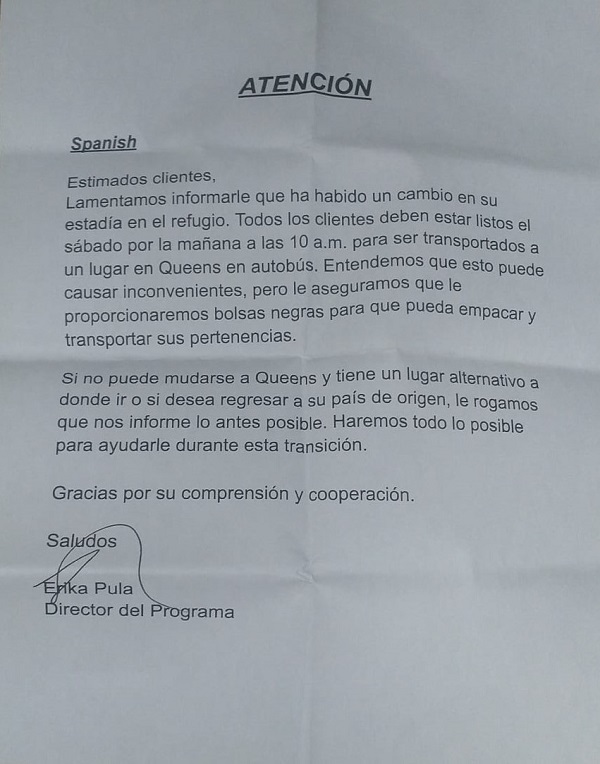 The letter, translated into English, reads:
My Dear Clients,

We regret to inform you that there has been a change in your status at the refuge. All of the clients should be ready on Saturday morning at 10:00 am to be transported to a place in Queens by bus. We understand that this can cause inconveniences, but we assure you that we can offer you black bags so you can pack and transport your belongings.

If you cannot move to Queens, and you have an alternative place to go, or if you wish to return to your country of origin, we beg that you notify us as soon as possible. We will do everything possible to help you during this transition.

Thank you for your understanding and cooperation.

Kind Regards,

Erika Pula

Program Director
Danny says a subsequent notice was posted throughout the hotel informing the migrants they would be moved by 4:00 pm on Thursday. He says he was bused to a soft-sided shelter at Queens Village long before the deadline. He claimed he was threatened with removal from the sheltering program when workers observed him taking photographs of the bus ride and the shelter receiving area.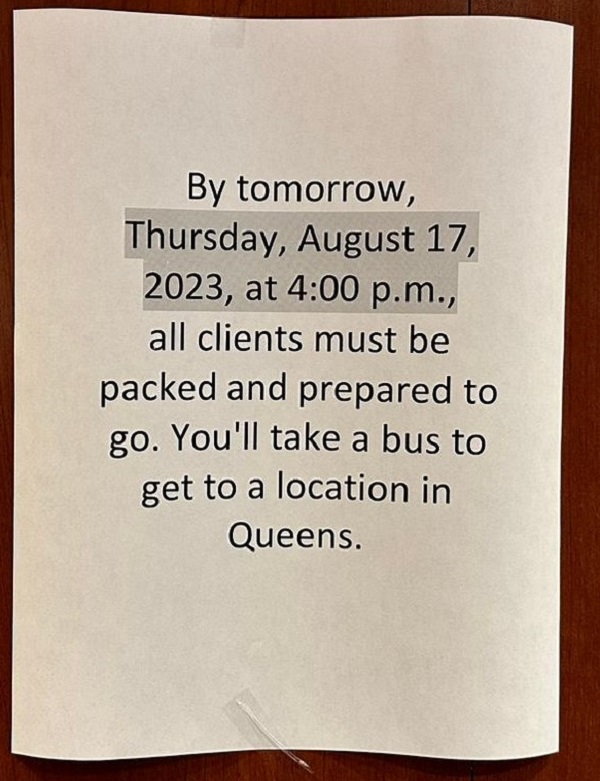 Although the letter sent by the program director did not directly suggest migrants return to their country of origin, the idea expressed in the letter that asylum-seeking migrants would consider returning to their home country voluntarily was perplexing to Danny. He says he left everything behind when he decided to come to the United States.
"I left my home country because of the instability of our government and fear of living in Venezuela," he told Breitbart.
"There is no way returning is an option, at least not one that I will come to voluntarily," Danny emphasized.
Danny left Venezuela several years ago and lived in Columbia prior to making his way to the United States, he told Breitbart.
The idea that the migrants may voluntarily choose to return to their home country may be wishful thinking on behalf of the city that once expressed views that the migrants are asylum seekers deserving of refuge. The estimated cost of housing the migrants in New York City has climbed significantly in recent weeks. At a recent press conference, Adams declared the crisis would cost the city $12 billion over the next three fiscal years.
Daniel told Breitbart Texas he would remain at the shelter for the time being and hopes to move soon to his own place. He says the move from the hotel to the large tent in Queens offers no privacy as hundreds are sleeping on cots under one roof. Like many other migrants in New York City's shelter system, Danny found unauthorized employment near the hotel in the Bronx. He says he will likely have to quit work due to the distance from the new shelter in Queens.
Randy Clark is a 32-year veteran of the United States Border Patrol. Prior to his retirement, he served as the Division Chief for Law Enforcement Operations, directing operations for nine Border Patrol Stations within the Del Rio, Texas, Sector. Follow him on Twitter @RandyClarkBBTX.
breitbart.com/border/2023/08/19/exclusive-migrants-transferred-from-bronx-hotel-to-queens-village-tents-locals-protest-move/