(thegatewaypundit) – Texas Governor Greg Abbott is standing up for Americans' right to self-defense.
He just released a statement saying that he has recommended Sgt. Daniel Perry be pardoned to the Board of Pardons and Paroles.
He also urged them to expedite its review of the case.
Abbott said, "Unlike the President or some other states, the Texas Constitution limits the Governor's pardon authority to only act on a recommendation by the Board Of Pardons and Paroles. Texas law DOES allow the Governor to request the Board of Pardons and Paroles to determine if a person should be granted a pardon. I have made that request and instructed the board to expedite its review. I look forward to approving the Board's pardon recommendation as soon as it hits my desk."
Read: Dr. Peter McCullough On "The Holy Grail Of COVID-19 Vaccine Detoxification"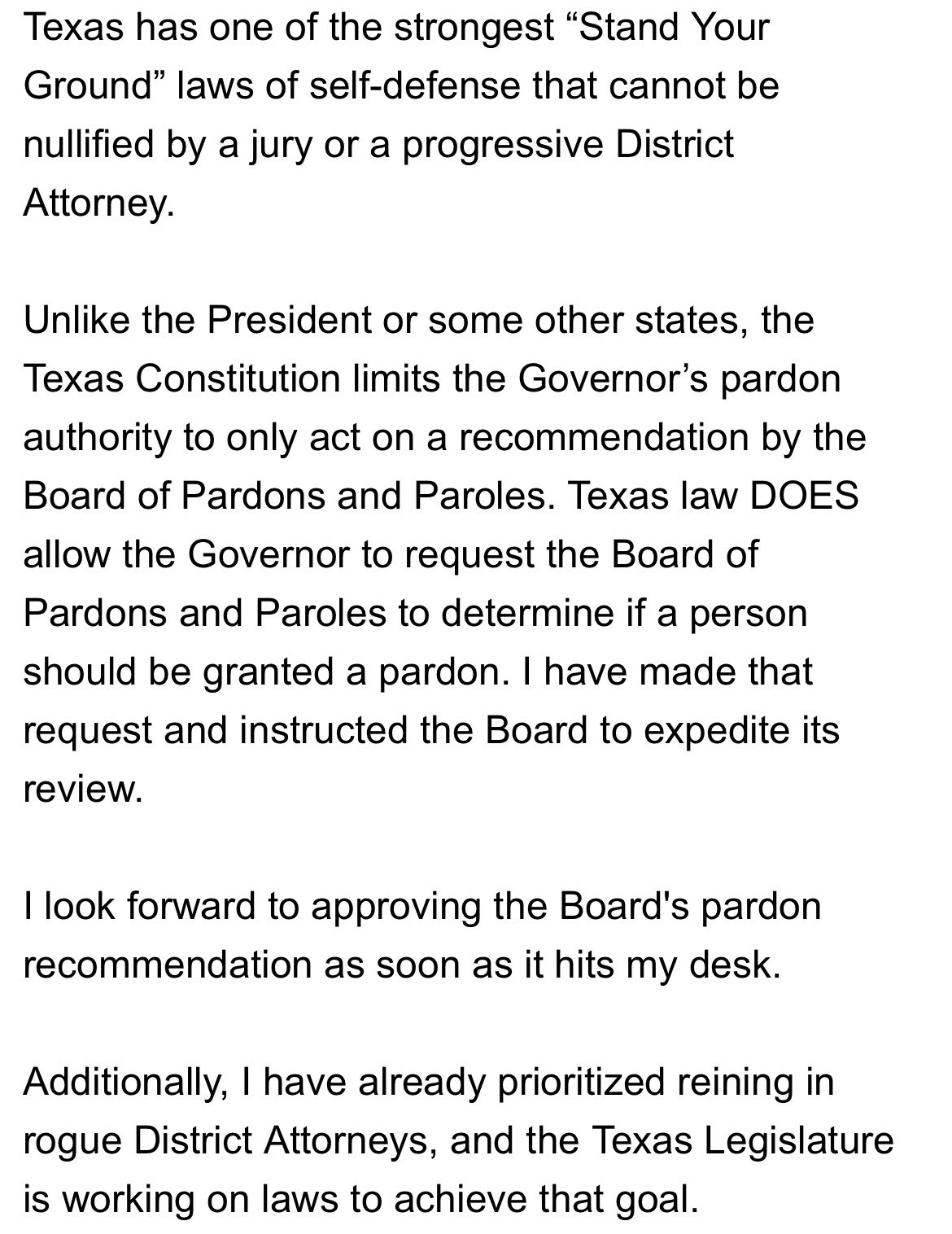 Greg Abbott also said he strongly supports a bill requiring DA's to present exculpatory evidence.
People praised Abbott for his decision.
As background, Army soldier Daniel Perry was found guilty of murder by a Travis County jury.
Perry shot and killed an armed BLM-Antifa protester Garrett Foster in July 2020.
A still frame of the footage appears to show Foster posturing as if he was pointing a gun at Perry.
A Texas soldier was found guilty of murder on Friday after Soros-backed District Attorney Jose Garza sought murder charges for an act of self defense during the 2020 George Floyd riots.
Sgt. Daniel Perry, an army soldier who shot and killed an armed BLM-Antifa protester in Austin in July 2020 was indicted on a murder charge in 2021.
…
In the summer of 2020, Police confirmed that two people fired shots during an altercation in Austin between a motorist and a Black Lives Matter-Antifa protester, during which the protester was shot and killed.
Police say that the man who was killed, Garrett Foster, was armed and confronted the vehicle — but was not the other person who fired shots.
…
Prior to being fatally shot, Garrett Foster said on camera that the "people who hate us" are "too big of p-ssies to actually do anything about it" when asked why he was carrying a rifle.
A still frame from footage of the incident appears to show Foster in a posture that looks like he was pointing a weapon at the driver.
thegatewaypundit.com/2023/04/breaking-texas-governor-greg-abbott-to-pardon-sgt-daniel-perry/