(IL) – Over the weekend, heavily-armed "Black Power" activists marched through the streets of Tulsa, Oklahoma and announced they're planning to "kill everything white in sight" to cheers from a black nationalist mob.
Just days later, puppet Resident Joe Biden decided to fan the flames of anti-white hate even further by reading an inflammatory speech reimagining the Tulsa race riot of 1921 as some sort of American-led holocaust of blacks complete with concentration camps.
The 36 people who died according to the official history (26 black and 10 white) was retconned into "as many as 300" and the whole 100-year-old story was just used as an excuse to bash white people in America today and declare them the number one terror threat.
They claim the Tulsa riot caused some $2.25 million in damages at the time ($32 million in damages when adjusted for inflation), which pales in comparison to the $2+ billion in damages caused by the Black Lives Matter riots just last year!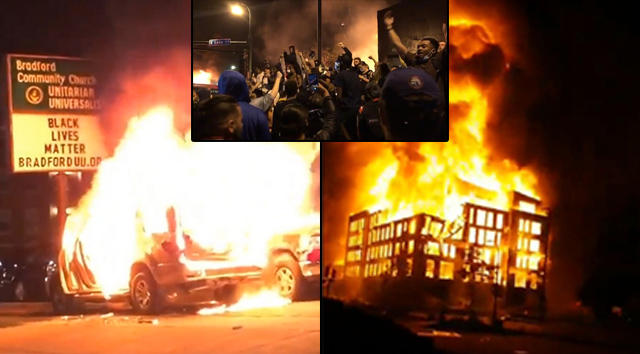 "Terrorism from white supremacy is the most lethal threat to the homeland today," Biden proclaimed, ignoring the fact that according to the ADL's own stats the number of domestic extremist-related killings has never been lower. "Not ISIS. Not Al-Qaeda. White supremacists."
If "white racism" is so bad today why do PoCs have to stage hate crimes against themselves almost every week?
None of this makes any sense.
Speaking of which, Biden also went on to claim "white extremists" attacked the Capitol on "January 9th" and said one of the Tulsa "survivors" told him the Tulsa riot was just like the Capitol protest (where four Trump supporters were killed and no police died).
Incidentally, the flagship Tulsa race riot commemoration that was planned for Monday had to be scrapped because "survivors demanded $1 million each to appear and $50 million for reparations fund," The Daily Mail reported.
From The Daily Mail, "Flagship Tulsa Race Massacre commemoration is scrapped after survivors demanded $1 million each to appear and $50 million for reparations fund":

The flagship commemoration event to mark the 100th anniversary of the Tulsa Race Massacre was scrapped after three survivors demanded $1 million each to appear.

Monday's Remember & Rise event – which was also set to feature John Legend and Stacey Abrams – was called off on Friday after survivors Viola Fletcher, 107, her brother Hughes Van Ellis, 100 and Lessie Benningfield Randle, 106, upped their appearance fee from $100,000 each to $1 million each.

Lawyers representing the trio also demanded seed money for a reparations fund be boosted from the agreed $2 million to $10 million, with Oklahoma State Senator Kevin Matthews saying organizers were unable to meet their revised demands.
Sorry, folks!
Pushing this retconned lie is important but it's not $50+ million important!
The one true thing Biden said was when he went off script and started talking about "mixed race couples" in commercials and said it wasn't "by accident" but is being sold to the American people like "soap."
All the lies we're fed from the media are being sold to us just the same.
As Biden said, it's not by accident!
Biden's handlers are declaring "white extremists" the greatest threat to America because they're planning to strip all conservatives of their rights by declaring them "domestic violent extremists," taking their guns with no due process and putting them all on the No Fly List!
They're actively purging the military of "extremists," spying on members of the military for "extremism," teaching that "whites are inherently evil" and firing those who disagree, and seeking to form a partnership between the Department of Defense and the Southern Poverty Law Center and the Anti-Defamation League.
They're doing this all while they throw the border wide open to unlimited third-world immigration.
They're also doing this all while the murder rate is skyrocketing in major cities in the wake of the Floyd riots.
As Steve Sailer reported last week:

Gun murders are up 34.4 percent in the 365 days since George Floyd's death.

According to data scraped from Gun Violence Archive, in the Year One B.F. (Before Floyd) from May 25, 2019, to May 24, 2020, there were 13,024 murders committed with a firearm in the U.S.

In contrast, in the Year One A.F. (After Floyd) from May 25, 2020, to May 24, 2021, there were 17,499 gun murders, an increase of 4,475 corpses. (In contrast, the NAACP reports that 3,446 blacks were lynched in all of U.S. history.)
Biden's handlers have to go back 100 years because they don't want to talk about the reality of crime on the ground today!
All this happened in just the past week!
As the perpetrators weren't wearing MAGA hats or members of the Proud Boys, the Biden regime couldn't care less!
informationliberation.com/?id=62269