(trendingpoliticsnews) – A new poll from the battleground state of Michigan has former President Donald Trump and President Biden tied in a hypothetical head-to-head rematch of the 2020 election. Trump leads Biden when Green Party candidate Cornel West was introduced as an alternative, however, keeping in line with a trend of recent polls that spell bad news for Biden if third party candidates are available.
The Emerson College survey, which was released on Friday, shows Trump and Biden tied at 44 percent in a head-to-head race. An additional five percent remained undecided, while an additional eight percent would be supporting another candidate in that scenario.
With West included as an option, President Biden's support dips to 41 percent with West garnering support from four percent of respondents. President Trump leads with a plurality of the vote at 43 percent, however, highlighting the threat of third-party candidates to Biden's re-election chances.
As things currently stand, a number of potential third-party candidates have hinted at the possibility of a presidential bid. In addition to West — a Bernie Sanders ally who is a sharp critic of the political establishment on both sides of the aisle — West Virginia Senator Joe Manchin has entertained the idea of a bid under the ""No Labels Party."
President Biden's top Democratic challenger, Robert F. Kennedy Jr., also represents a potential threat if he chooses to run independent of his party. Kennedy has maintained a sizable base of support between 10 and 15 percent, though a number of recent polls have found that Democratic voters would prefer an alternative to Biden in general.
Much like Friday's Emerson College poll, the former president has been the primary beneficiary of potential third-party candidates.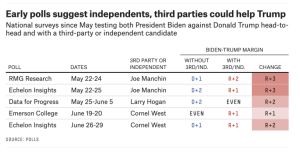 "Third-party candidates don't need to have large magnitudes of support to swing an election. Ralph Nader, the Green Party nominee in 2000, may have tipped that election away from Al Gore and toward George W. Bush by earning 2.7 percent of the national vote," wrote Politico's Steven Shepard in a recent analysis. "And while the Green Party's 2016 candidate, Jill Stein, only received a little over 1 percent, her share of the vote in Michigan, Pennsylvania and Wisconsin — the three decisive states Trump flipped that year — exceeded Trump's winning margin over Clinton."
trendingpoliticsnews.com/third-party-candidates-continue-to-signal-bad-news-for-the-biden-campaign-cmc/