(trendingpoliticsnews) – In a series of posts on his social media platform, Truth Social, former President Donald J. Trump responded to the ongoing controversy surrounding the discovery of cocaine at the White House. Trump's comments suggest a connection between the Biden administration, alleged drug use, and the invasion of his residence in Mar-a-Lago.
On Monday, Trump joked whether Joe Biden was under the influence of cocaine when he instructed the FBI and DOJ to invade Mar-a-Lago, violating Trump's Fourth Amendment rights. He also raised suspicions about Biden's involvement in the unprecedented indictment and arrest of the former President.
Trump's post read: "Was Crooked Joe Biden on Cocaine when he instructed the FBI/DOJ to illegally invade my home, Mar-a-Lago, in complete and total violation of my 4th Amendment Rights?…WE ARE A NATION IN DECLINE!!!"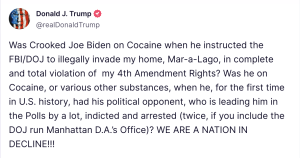 Trump's posts also addressed the demand from the public for information about the "White House Cocaine Story." He compared his own quick release of security tapes from Mar-a-Lago during the "Boxes Hoax" to the current situation, stating that the White House has numerous security cameras, surpassing those at his residence.
He said that the White House "100% KNOWS WHO IT IS" and suggested that the lack of information release implies the destruction of tapes and the involvement of Hunter Biden and possibly Joe Biden in using cocaine to boost the President's energy. Trump's post read: "If they don't release information, it means they destroyed the tapes & the Cocaine was for use by Hunter, & probably Crooked Joe, in order to give this total disaster of a President a little life and energy!"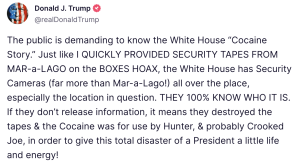 The refusal of the Biden White House to provide details and cooperate fully with the investigation has raised questions about their commitment to transparency and accountability. As of now, the White House has not responded to these allegations, leaving the situation unresolved. The public remains eager for a thorough investigation into the matter, including the identification of the individual responsible for the discovered cocaine.
On Friday, Karine Jean-Pierre vehemently rejected any questions regarding the "mystery" cocaine incident without confirming or denying the Biden family's involvement. The White House's refusal to provide a straightforward denial about the potential Biden family connection to the recent cocaine discovery has deepened the mystery surrounding the issue.
In response to the incident, the House Committee on Oversight and Accountability launched an investigation into the discovery of cocaine in the White House. The discovery of the cocaine in a secure area, near the Situation Room and West Executive entrance, contradicts initial claims that it was found in a high-traffic visitor area. Hunter Biden's history of drug use, including cocaine, has further intensified interest in the case.
trendingpoliticsnews.com/trump-accuses-joe-biden-of-cocaine-use-amid-white-house-drug-scandal-mace/